Out of 8 billion people living on the planet, only 43 million people own Bitcoin — which amounts to less than 1% of the population.
Despite the success of the cryptocurrency, a minuscule number of the world's current inhabitants holds ownership of Bitcoin, according to CoinMarketCap.
Are there specific reasons why this is happening? Or is there something going on in the world of cryptocurrency that contributes to this current trend?
Confusion Over 'Ownership' And 'Creation'
Before anyone can have access to any form of cryptocurrency online, a user must create their own online wallet for the specific cryptocurrency they want to invest with. It is the same case with Bitcoin, as specific blockchain wallets are created for BTC.
Data chart of BTC wallet address created as of Jan. 2022, source: 

Blockchain.com
From January 2022, a total of 85 million BTC wallets that were unique from each other were created and recorded by Blockchain.com, one of the world's leading cryptocurrency blockchain hosting sites.
This is where possible confusion might occur to those who are not familiar with the difference between creating a cryptocurrency wallet versus uniquely owning certain amounts of cryptocurrency.
The unique ownership of the cryptocurrency itself (meaning that they have at least 1 or more BTC in their wallet) is only 43 million worldwide, despite that 46 million Americans have a share when it comes to BTC investment, according to ExplodingTopics.com.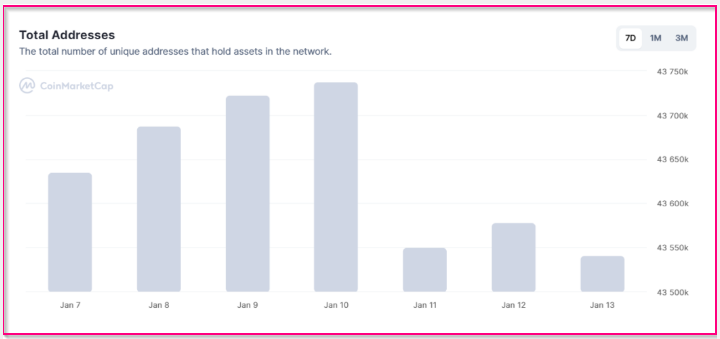 Current data on Bitcoin (BTC) ownership, source: 

CoinMarketCap
Lack Of Confidence In The Current Crypto Market
Although a growing number of people worldwide (especially in prominent countries such as the United States) are getting more interested in the potential of the power of cryptocurrency and its market, the lack of confidence hinders its potential growth.
Due to the recent crypto market crash of 2022, many potential investors became paranoid about losing their money in an uncertain market at the moment.
Add the fact that some other countries are not yet ready to fully adapt cryptocurrency in their economies. Some have even pushed regulation against cryptocurrency like India, wherein the governor of the Reserve Bank of India (RBI) Shaktikanta Das wants cryptocurrency to be regulated if not banned in their country, as he sees it as another form of "gambling."
He stated on behalf of RBI that it doesn't consider cryptocurrency a viable financial product, according to India Today.
Meanwhile, Bitcoin is trading at $20,883.57 up 23.1% in the last seven days, data by Coingecko show.
-Featured image courtesy of Nation of Change